6 Movies All Teenagers should watch about Social Injustice
Social Injustice is everyone us and yet most of us fail to do anything about it and some don't even acknowledge it. Then there those people who actually want to make a change but don't know where to start. A lot of things that we learn growing up come from what we watch and many times, the things we watch impact us negatively. Speaking for myself, Bollywood did not help. I mean what could you expect when even in 2020 they come out with the song, "Beyonce Sharma Jayegi," which encourages racism in the midst of the black lives movement. Ever since I was a young girl I loved watching tv shows and movies and most of my understanding of the society came from the big screens but that did not help. I mean how could it when songs such as, 'Shila ki Jawani,' and 'Muni Badnam Hui,' were on everyones playlist, even kids'. Its does not come as a shock to anybody that the society is this way because Bollywood has promoted the worst things year and again and us as audience applaud this work. By doing so we forget that we are also being a part of the injustice that is being spread.
Now don't get me wrong, not all movies are bad but many are but tha goes without saying that there are many movies which are genuinely very good. Not until very recently did Bollywood adapt to this style of writing which proves a point and shows the social contractions of the society by portraying the injustices in society. Some movies are so real and point on that it puts you to shame. I know that some of these movies were so hard for me to watch because of how cruel they were but they with that they also showcased the truth in the best way possible. So here are some movies that you should watch because of the powerful message that it gives. These movies show social injustice in the society. Spend your time watching such movies and begin your research here. We all have Netflix or some or the other streaming services, so instead of watching movies that encourage racism, sexism, homophobia, be a part of the change. Watch some meaningful and understand the society. One must understand the problem first before finding a solution. Here are some movies we should also watch-:
The Hate U Give

Thappad

Ek Ladki Ko Dekha To

Wonder

The perks of being a wallflower

Chhapaak
The Hate U Give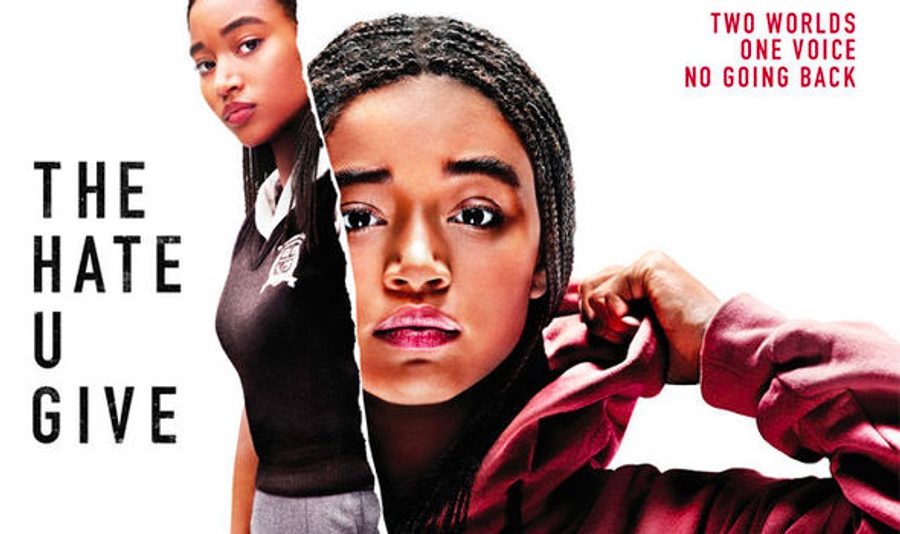 Injustice: Police Brutality, Racism
Starr Carter is constantly switching between two worlds — the poor, mostly black neighborhood where she lives and the wealthy, mostly white prep school that she attends. The uneasy balance between these worlds is soon shattered when she witnesses the fatal shooting of her childhood best friend at the hands of a police officer. Facing pressure from all sides of the community, Starr must find her voice and decide to stand up for what's right. While her friends at school suggest that he had it coming, she forced to decide whether to take a stand and defend his friend or quite the demons in her head. The movies follows the life of Starr, along with her family and friends and how the death of Khalil, has changed the lives of people in the neighborhood.
The hate you give if one of my favorite novel's. The movie did not fail to impress either. The Hate U Give was one of the movies which was so hard to watch. I couldn't watch it in one get go because of emotional it was throughout. There wasn't scene in this movie where my heartbeat was normal. One of my favorite things about the movie as well as the book was the well thought out title. The words "THUG LIFE" may not mean a lot to people, or those words may have no meaning at all, right? No, THUG LIFE is The Hate U Give Little Infants F**ks Everybody. This is saying by Tupac was referenced may times in the book as well as the movie as to show the deeper meaning behind that phrase and how it affects everybody. The reason why it was so hard for me to watch this movie was because I may not be white but I am privileged and though I don't see myself as a racist I am a part of the this community which promotes racism.  I couldn't help but feel this anger inside me while I was watching the movie, maybe I was angry at myself, maybe at others, maybe the society. Angie Thomas's words were so powerful and strong that it left me awe-inspired. The movie had some of the best cast members who did a fantastic job to put out such a devastatingly honest movie.
"You'll wanna act black but keep your white privilege."
Screaming service: Hotstar
Thappad
Injustice: Sexism, Domestic Violence
Amrita, a young woman, leads a content life with her husband, Vikram. However, their happiness is shattered when he slaps her at an office party causing her to file for a divorce. Along with the story of Amrita we get a glimpse of the lives of other females who are her close to her. This movies portrays all the injustices in the Indian society with a lot of precession. Amrita's story happens to be something many women in India can relate to. The movie shows how it is not just a slap, it so much more than that. It the lack of respect and understanding.
After telling a lot of people the summary of the movie their reaction was, "it was just a slap? she filed a divorce on the basis of a slap?" Those questions always got to me. Even if it was "just" it never should have happened in the first place. You can't just slap someone out of frustration or any other reason and try and justify it because you can't justify it. Especially in a marriage, a slap is never just that. I am still very young and it hard for me to comprehend all the injustices in the world but I try. Although, I did tr to put myself in the protagonists shoes and I wouldn't done anything differently than how she reacted. Something else that I loved about the movie was the dialogues. Every dialogue in the movie was well-planned and written with a clear message behind it. The husband, Vikram, never apologized Amrita for slapping her but while watching the movie very few people will notice this detail until the very end of the movie when Vikram is one who mentions it. Other dialogues that come from Amrita's mother, her mother-in-law and Vikram show the small problems in the society. Everybody tells Amrita to understand when she is one who was slapped, but the truth its not her job to understand. y
This movie made me sob more than a few times because everything seemed real. It was a less of movie and more of the portrayal of reality. There were no exaggerated or bigger than the reality scenes in the movie. The portrayal of small characters such as the maid, the lawyer, the neighbor and her daughter as well as her brother's fiance were extremely important to the script as well because within this small story they showed the injustice and all the unfair things that happened in the lives of all the other woman. The cast members were extremely talented and did an absolutely tremendous job in getting in the skin of the characters. I know this because there wasn't a moment when I was watching the movie and looked away from the scene. Every scene and every dialogue had some or the other message to give.
"Just a Slap par maar nahi sakta."
Streaming service: Amazon Prime Video
Ek Ladki Ko Dekha To Aisa Laga
Injustice: Homophobia
Sweety hides a secret about her true love and decides to marry a writer to please her father, Balbir Chaudhary. However, chaos ensues when she decides to fight her family and society to win her love. Ek Ladki Ko Dekha To Aisa Laga is the first LGBTQ movies in India. Sweety who is afraid of how her family will react to the news keeps her sexuality a secret and agrees to marry a man to please her parents. This movie focuses on the journey of Sweety. She soon ends up confiding in Sahil, who also happens to be the man she is marrying.
I liked this movie to some extend. Although, it was the first LGBTQ movie in theaters after the section 377 bill had come out by the government, there were a large number of people who disliked the movie, come of them for reasons which will always be unknown to me and other because of the slow paces script and the senseless jokes that don't help the act. But overall I have to say that I really did enjoy the movie and would recommend everyone to watch the movie because of an important social message that it passes. It shows how the society is and how being queer is looked at as something negative. It saddened me to see so much hate the movie was getting just because people are homophobic. When I looked at the reviews on google most people who gave it a 1 star rating justified it by saying that they are promoting the wrong message which is anything but the truth. Homophobia is not an opinion. Putting aside the trolls, the movie did a good job in portraying the society with an element of fun it which was enjoyable to say the least. The overprotective and conservation family which included the father played by Anil Kapoor and the brother showed the part of the society who thought of being gay as inhumane whereas we had Sahil played by Rajkumar Rao who showed the soft and accepting part of the society. There were plenty of heartbreaking and tear jerking scenes in the movie enhanced by the performance of the actors.
Screaming service: Netflix
Wonder
Injustice: Bullying
Born with facial differences that, up until now, have prevented him from going to a mainstream school, Auggie Pullman becomes the most unlikely of heroes when he enters the local fifth grade. As his family, his new classmates, and the larger community all struggle to discover their compassion and acceptance, Auggie's extraordinary journey will unite them and prove you can't blend in when you were born to stand out.
It is been a minute since I watched the movie but I still do remember bits of it and I do remember how much I liked the movie. The movie was a delight to watch as the young boy Auggie starts schools and is met with cruel bullies but he makes some very supportive friends. This story shows love for family and friends and the support that comes with. The movie has a message about acceptance everyone, even who seem unique in their own way. It shows perseverance and kindness to everyone in the community for who they are not what they look like. This movie was yet again, another movie that made me sob because of how we as a society focus on the physical appearance rather than what lies inside. The things that really matter such as kindness, a good heart, wisdom, intellect are ignored while things as the clothes we were, the way we look and our physical and outer appearance are given a lot of importance. The movie addresses that issue and does a speculator job doing it. Julia heart presented us with an protective and worried mother while Owen Wilson did brilliantly getting the character of the father alive, fun on the surface but worried deep down. Jacob Tremblay as a very young age, stole my heart by portraying the character of Auggie with such honesty, the young boy who is pushing everyone away.
"When given the choice between being right or being kind choose kind."
Streaming service : Netflix
The perks of Being a Wallflower
Injustice: Sexual Abuse, depression
Socially awkward teen Charlie (Logan Lerman) is a wallflower, always watching life from the sidelines, until two charismatic students become his mentors. Free-spirited Sam (Emma Watson) and her stepbrother Patrick (Ezra Miller) help Charlie discover the joys of friendship, first love, music and more, while a teacher sparks Charlie's dreams of becoming a writer. However, as his new friends prepare to leave for college, Charlie's inner sadness threatens to shatter his newfound confidence.
I loved loved loved this movie. The Perks of Being a Wallflower is one of the best movies I have watched. What I absolutely loved about the movie were the different characters and each of them with a different characteristics which makes them stand out. Mental health and depression was one of the main themes of the movie and the Logan Lerman in the shoes of Charlie showed the pain and the trauma that came with the character. The flashbacks to the young Charlie helped understand his current state of mind. One of his key players is his dead aunt. The movie also explores themes of adolescence. What broke my heart was the scene where we find out that Charlie was a victim of sexual abuse as he was being modested by his aunt. After remembering things clearly this tipped Charlie over the edge. This movie had many moments where I held my breath because of the anticipation of what was going to happen next. Most of the details of the movie are quite hazy since it's been some time since I watched this movie but I did get to learn a lot about sexual abusive and depression. The chosen cast members were perfect for their roles as they all fit well in their roles.
"We Accept The Love We Think We Deserve."
Screaming service: The Perks of being a Wallflower
Chhapaak
Injustice: Acid Attack
Malti falls victim to an acid attack and is forced to go through the ordeal of a court procedure while trying to heal mentally. In the process, she decides to fight for justice for those like herself. This story is based on a real life case of Laxmi Agarwal who was also an acid attack victim.
The movie did receive a lot of criticism for several political and press reasons but the movie itself was something that needed to be showcased to the audience. Leaving the cast aside for just a second, Chhapaak talks about a very serious problem with is acid attacks. The boy in the movie threw acid on the girl for just one reason, it is because she refused to marry him. Even today, lot's of men and women have such a big ego that just because of a failed proposal they take it in their hands to destroy the other person. Malti who was very young at the time, was thrown acid at for no reason. She made no mistake and even if she did, acid attack is no punishment and people sure as hell aren't the ones to decide how to punish them. Acid attack is growing problem in this country and that is what makes this movie so important. At least as far as my knowledge goes not many movies have taken a stand to to showcase such important issues which actually matter and need to be addressed in the society. Chhapaak was a little slow paced which made the movie monotonous at times however the movie did press a lot of focus on the problem which was a good thing. Just to get justice for herself and all the other acid attack survivors court had become Malti's life. She found comfort and trust in the hands of Amol, who ran an NGO for acid attack survivors.
The movie not only showed this issue but other things that come with it. Even though Malti was the victim of this heinous crime, the society looked down upon her. There were people who supported her and loved her regardless of her appearance and then there were others who looked at her with shock. Now, getting into the cast, Vikrant Massey did a fine job in portraying the solemn husband and activist who wanted more with their life. Deepika Padukone undoubtedly gave us a heart-wrenching performance to reflect upon. I would highly recommend watching this movie for the importance and significance it holds.
"Unhone meri soorat badali hai….Mera man nahi"
Streaming Service: Hotstar
Go watch these movies now. Be a part of the change. We all love watching movie and Tv shows might as well watch something that actually matters and needs to be give greater importance to in the society. Be the change. The change is here. The change is now.